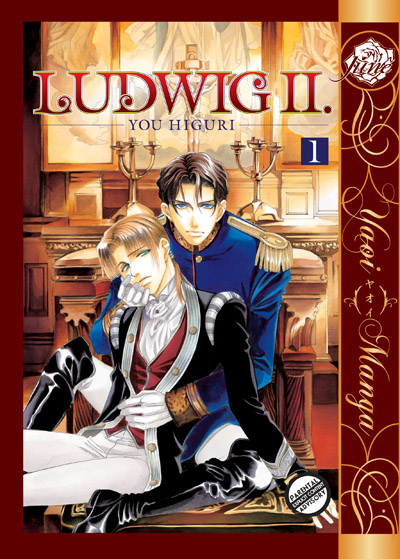 King Ludwig II ascended the throne of Bavaria in 1864, at the age of eighteen, upon the death of his father Maximillian. By some he is known as the Swan King, others as the Fairy Tale King. And still others insist upon calling him mad. But madness lies in the eye of the beholder, and it was a madness without medical proof for one day after being medically certified as insane – a decision deemed necessary in the exigencies of politics – both he and the doctor that ascertained his madness were dead – drowned in the shallow waters of Lake Starnberg. To this day, his death remains a mystery. But what of his life? And why did they call him mad?
You Higuri examines the life of this mysterious man in her manga Ludwig II, which opens with a requiem from his cousin Elizabeth, Empress of Austria, with whom he was very close, sharing a lifelong bond of friendship – she styled him her "Eagle", and she was his "Dove." She laments his death and ponders upon it, for he was a strong swimmer, and yet he was found drowned in shallow water. She wonders why. At the site of his death, within the lake, there now lies a cross, commemorating his passing. And then his story begins….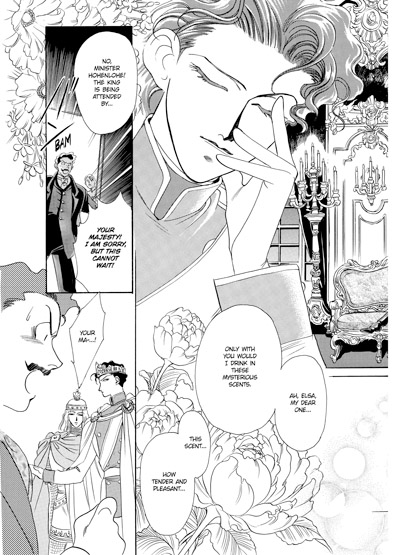 Highlights
It is 1866, and we are in Munich, capital of the kingdom of Bavaria. Twin brothers are reunited – Richard Hornig, the rakish ne-er-do-well, and Fritz Hornig, who works in the royal stable. Richard sees opportunities at once in Fritz's position, importuning him to steal the key to the royal treasury, that he may loot it, which Fritz refuses. Meanwhile, Prime Minister Hohenlohe is seeking the king, who has slipped away from the city, following him and bursting into upon him to find him role-playing with his aide-de-camp/best friend, Prince Paul Maximilian of Thurn and Taxis. Hohenlohe presses Ludwig to return to Munich immediately for decisions must be made as to who to support in the coming war – Prussia, under Bismarck, or Austria. But Ludwig wishes to avoid war, so for the moment he chooses the less aggressive Austria, and loses himself in his lover, Taxis. Ludwig had not expected to ascend the throne at such an early age, and had never prepared to do so. He is a dreamer, a gentle man who wishes for everyone to be happy, and is infatuated with the music of composer Richard Wagner and has been ever since he heard his opera Lohengrin. Through chance, sometimes deemed fate, Ludwig encounters Fritz Hornig and makes him his personal man servant. Richard attempts once more to make use of this connection, but again Fritz refuses. Ludwig is taken with the young man, makes him his lover, and they become close, even as the king reveals his inner thoughts and fears – especially concerning the "mad blood" of the Wittelsbachs.
When Austria mobilizes against Prussia, Ludwig declines the position of commander-in-chief, and the people discuss the news, fearful that Ludwig is too concerned with Wagner and his scandals (the composer has seduced the wife of his apprentice Bülow, Franz Liszt's daughter Cosima) to be an effective ruler. Intoxicated with youthful ideals of defying tyrrany, Richard Hornig accosts his brother and kidnaps him, tired of waiting for his assistance, taking his place with the King in order to both steal from him and murder him in the name of liberty! But Ludwig, who catches him rifling through his desk, realizes immediately that he is an imposter and demands to know where his Hornig is! Richard, using Ludwig's own gun which he finds in a drawer, forces the King to take him to his treasure, so Ludwig unlocks a secret entrance and they descend into the palace via a spiral staircase that no one else knows of, and he shows the would-be thief the Relics of St. George, but that isn't what Richard is after, as he decides to shoot the king, unaware that the gun he holds is simply another one of Ludwig's toys – the king does not even hunt. Ludwig locks him in this place, then goes to seek his Hornig, whom he finds and confesses to him that he has killed his brother. But then he gives him the key to the secret place, revealing that Richard is indeed unharmed, that Fritz may release him, and the key thereafter becomes a symbol of the love and trust between Ludwig and Fritz.
Ludwig's relationship with his aide Taxis has withered upon the news of the latter's engagement, which Ludwig sees as a betrayal. His cousin Elizabeth's younger sister, Sophie, though, is quite taken with Ludwig, and attempts to pique his interest in her by pretending to a knowledge of Wagner, as he escorts to her one of the master's operas. They become engaged, more because it is expected than because Ludwig desires it. However his heart is not in the engagement, which Sophie comes to realize, and she fears that his heart is held by another, disturbed that Ludwig never calls her by her own name but uses "Elsa" instead, from one of Wagner's operas. When Ludwig flees with his beloved Hornig, Sophie follows, and when she insists upon seeing Ludwig unannounced, she interrupts a disturbing tableau and learns the truth about her fiance and realizes that he loves her as he would a younger sister. The engagement is broken off and Sophie later marries Ferdinand, duc d'Alencon.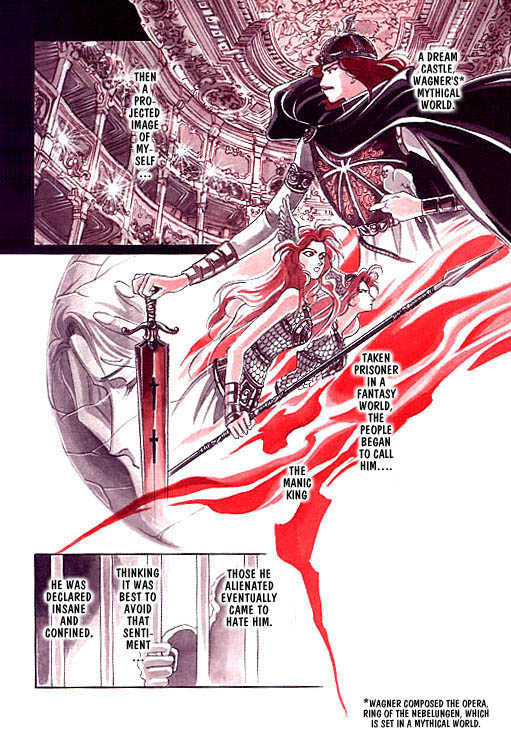 Overall
Ludwig was a gentle man, who would not even harm an animal, and who simply wished to be allowed to live in his world of beautiful dreams and beautiful music. He realized the strength of Bismarck, and his intention was to keep Bavaria safe from harm. His pacifism indeed helped to pave the way for eventual German unification. He was the intended target of assassins, who mistakenly believed him to be weak and ineffectual, sometimes attacking him through his beloved Hornig. Ludwig lived in his own world. He loved to dress up and to role play, and the music of his beloved Wagner took him to otherwise unattainable places, and which caused people to perceive him as odd, perhaps, with his head always in the clouds and not on this earth. It was his patronage of the composer that gave him the means to be as successful as he became, for Wagner was always just one step ahead of his bill collectors, debt being a perpetual way of life for him, as well as scandal, and it was said that he was draining the royal coffers because of his influence on the king. There is unrest among the people, who do not understand their king's disinterest in going to war. Hornig accidentally overhears two men conspiring against the king, although he cannot see their faces, and upon discovering his presence, they seize him, taking him into the woods to kill him, violating him grievously first. It is only through Ludwig's divine intervention that his favourite is saved, but Hornig fears that a wedge has been driven between them, and he has lost the key which His Majesty gave to him! All's well that ends well, though, especially in the realm of love, as Ludwig gives Fritz proof of his devotion, but Hornig is then distressed to recognize the voice of one of the conspirators – it belongs to a close friend of the King! What is he to do about it?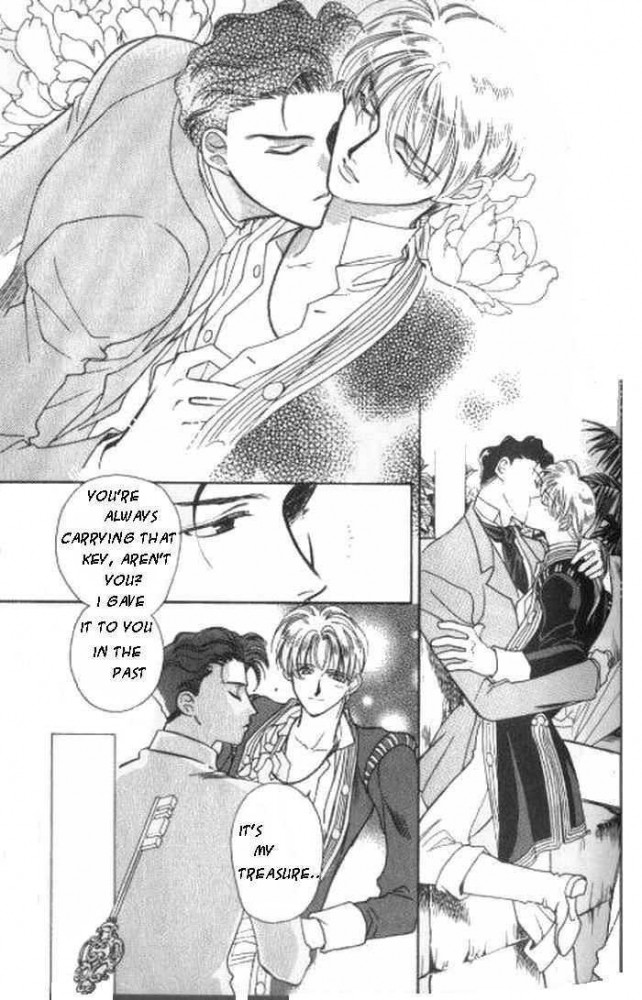 Ludwig II is a well-researched, well-written and beautifully drawn manga, by the same manga-ka who brought us Gorgeous Carat, Cantarella and Gakuen Heaven. The characters step out of the history books not as names of long-gone participants in historic events, but as living, breathing people. I could not help but fall in love with Ludwig, desiring to learn more about him. At the end of volume one, he has begun to draw up the plans for what will be known as his magnum opus, the magnificent Schloss Neuschwanstein – the new swan stone castle – located near Hohenschwangau and Füssen, in southwest Bavaria, which even now draws thousands of visitors a day to tour its intricate beauty, filled as it is with Wagnerian themes and fragile dreams. Ludwig left instructions upon his death that his castles be destroyed, but luckily for us this did not happen. Disaster was averted a second time at the end of World War II when Hitler was laying waste to what remained of Germany, rather than see it in the hands of his enemies, and he gave orders for Munich – and Neuschwanstein – to be destroyed. Luckily, the man intrusted with the destruction of the castle could not do such a thing, and thus is stands today. Ludwig II – the so-called Mad King – has been the subject of literature, film and music for many years. He is referenced by T.S. Eliot in the first stanza of his poem The Waste Land, and is played by Helmut Berger in a 1972 film directed by Italian director Luchino Visconti. To this day, his death remains a mystery, dying as he did at the age of forty, far too young. But did not Billy Joel say it best when he sang, "Only the good die young….." There is a measure of truth in his words. Ludwig, requiescat in pace.
Comicsonline gives Ludwig II 5 out of 5 royal keys.
This volume is available for purchase on Amazon