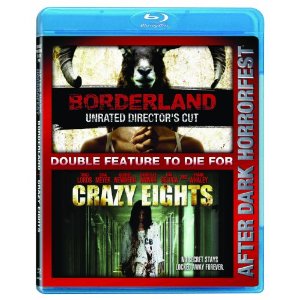 Chop, chop, chop and never stop…
The Flicks
Borderland
When three close friends decide to take a trip south of border to celebrate their high school graduation, they find more than a party waiting for them. They have the Mexican vacation of their lives until the boys decide to do some 'shrooms and ultimately get separated.
These acts contribute to two of the ongoing horror film stereotypes: don't run off by yourself and never ever do drugs. Your mom would be proud. It's at that point in the film where things go from bad to worse for the trio. Phil (Rider Strong, Boy Meets World) gets taken by a group of cult followers to be made as a sacrifice to their god Chango. Ed (Brian Presley, End Game) and Henry (Jake Muxworthy, Born Killers) attempt to get help from the police with no avail. Unfortunately, the few people they DO end up getting help from meet unfortunate ends themselves, or are traumatized beyond comprehension. It isn't until they find Ulises, (Damian Alcazar, The Chronicles of Narnia: Prince Caspian) a former officer who lost a partner to the same cult, that they are able to locate where Phil is and rush to try and save his life.
Borderlandoriginally released back in 2007 and was based on actual events that occurred in a 1989 Mexico case involving satanic cult killings. For those a little squeamish, be aware that Borderland uses heavy amounts of gore and dismemberment throughout. Expect to see hacked limbs, buckets of blood, and gruesome torture scenes. In fact, that's how this film gets by on telling most of its story. It sets up a scene and follows it with the aforementioned blood and gore. There's little guesswork to what is going to happen once the boys are separated.
Seeing Rider Strong appear in another feature length film was one of the few saving graces of this film. He makes Phil's imprisonment and torture feel more human than you'd expect from other actors in a role like this. The appearance of Sean Astin as the hick-like Randall was also a pleasant surprise. He plays an evil character that has a level of ferocity you wouldn't expect from Samwise Gamgee.
Crazy Eights
When a mutual childhood pal dies, six long separated friends return home to get his affairs in order. In the will they discover a diary containing his last request: that they return to a long since forgotten time capsule that he's dug back up. The chest they find contains a number of items from their youth along with some skeletal remains they've long since forgotten. Shortly after, they find themselves trapped in the orphanage they grew up in while a vengeful ghost takes them through the harsh memories of their past.
Crazy Eightsgathers a cast of well known actors including Traci Lords (Zack and Miri Make a Porno), Dina Meyer (Saw II, III, and IV) and George Newbern (Nip/Tuck) and places their characters in a situation they can't control where emotions begin to run high when people start dying. They begin to
Audio and Video
Both films feature the same 1080p High Def widescreen presentation and look pretty solid throughout. Borderland features a more thorough color palette when compared to the dark hospital look used in the Crazy Eights. The copious amounts of blood used in the former looks amazing in hi-def and there's very little grain throughout. The blacks are also very solid. Even though there are two films crammed on one Blu-ray, Lionsgate did an excellent job of making them look great. The English DTS-HD Master Audio 5.1 for both films is as equally good as the video presentation. Crazy Eights uses a lot more subtlety in its soundtrack while Borderland dishes out the booms more often.
Special Features and Packaging
After Dark Horrorfest Double Feature to Die For Vol 2: Borderland and Crazy Eightson Blu-ray comes as a single-disc collection in a standard recycle case with the following extras:
Borderland:
"Rituales de Sangre – The True Story Behind the Cult Murder Investigation" featurette
Audio commentary with director Zev Berman, Biran Presley, an Scott Kevan
"Inside Zev's Head: A Filmmaker's Diary featurette
"Miss Horrorfest Contest" webisodes
The "inside Zev's Head" featurette is a day by day on the set with director Zev Berman and his thoughts and plan for shooting this film. It's obvious that Berman put a lot of effort in trying to bring this story to the big screen. The commentary is of the same nature with Berman leading the show and the other contributing in small doses. The "Rituales" featurette tells the real story of the Matamoros cult killings that the film was based on. It runs about a half an hour and is narrated by George Gavito, the Deputy Sherriff of Brownsville Texas. It contains a lot of pictures and video from the original investigation. It's all pretty gruesome and graphic, but it's nothing compared to what you've already seen in the feature film.
Crazy Eights:
"Miss Horrorfest Contest" webisodes
The Miss Horrorfest Contest webisodes are the same for either movie and pit eight girls against each other in a reality show where they compete in a number of odd tasks in haunted locations. The four winners of the show got to go to finals in New York where one was crowned Miss Horrorfest 2007. It's really just a collection of short clips that don't really offer anything more than a bunch of hot girls dressed up like girls do on Halloween, except less fun.
Overall
Borderlandis certainly the most violent of the films in the After Dark Blu-ray collection, but the true story behind it makes it worth the watch alone. Top the collection off with the amazing cast of Crazy Eights and fans of the rest of the series will find plenty to like here.
ComicsOnline gives After Dark Horrorfest Double Feature to Die For Vol 2: Borderland and Crazy Eights on Blu-ray
Buy After Dark Horrorfest Vol. 2 on Blu-ray at Amazon.com now.
Keep it here at ComicsOnline.com for more movie reviews and Everything Geek Pop Culture.