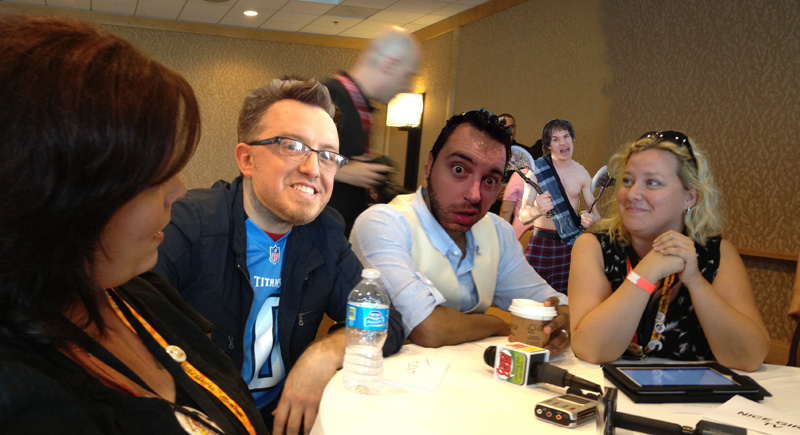 SPOILER ALERT!  You're listening to the ComicsOnline Podcast. SeasonThirteen. EpisodeFour. Nice Girls Gone Wild. Recorded October 16, 2012.
This episode, Kevin, Dune, Connie, Bill, and Jayden are joined by Mel and Liz from Nice Girls TV.  Topics include fan sites, Comic-Con, and everything geek pop culture.
Check out Mel and Liz at NiceGirls.TV, SidCity.net, OnceUponAFanSite.com, True-Blood.Net, or on Twitter @NiceGirlsTV

Click the PLAY button below to listen to this episode of the ComicsOnline Podcast: Nice Girls Gone Wild.
---
If you have comments, questions or suggestions for the ComicsOnline Podcasters, we invite you to post 
on our Facebook page, tweet us on Twitter, or email us at [email protected]
All original material in this podcast Copyright ComicsOnline.
Keep subscribing to the ComicsOnline Podcast for more celebrity interviews, more television coverage, 
and everything geek pop culture!
---
---
True Blood is the sexy, scary, wildly entertaining drama series from Oscar®- and Emmy®-winning Alan Ball (HBO's Six Feet Under), and based on the Sookie Stackhouse novels by Charlaine Harris. Mixing romance, suspense, mystery and humor, True Blood tells the continuing tale of Sookie (Anna Paquin, Golden Globe-winner for this role), a human waitress with telepathic gifts – and a so-far irresistible attraction to 174-year-old vampire Bill Compton (Stephen Moyer). Surrounded by familiar faces – including her brother Jason (Ryan Kwanten), shape-shifting boss Sam Merlotte (Sam Trammell), soul-searching pal Tara Thornton (Rutina Wesley), Tara's cousin Lafayette (Nelsan Ellis); police chief Andy Bellefleur (Chris Bauer), vampire suitor Eric Northman (Alexander Skarsgård) and teen vamp Jessica (Deborah Ann Woll) – Sookie faces some new otherworldly threats in this season – as if vampires, werewolves, werepanthers and shapeshifters weren't enough!
Podcast: Play in new window | Download