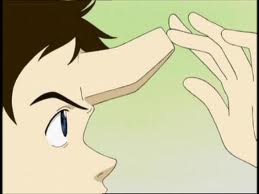 It's not a tumor!
Finally, finally the brilliant OVA (Original Video Animation) from the creators of Neon Genesis Evangelion is available in a single DVD or Blu-ray format, loaded with juicy extras! FLCL or Fooly Cooly follows young Naota in awkward flirtations with his brother's ex-girlfriend, as he suddenly encounters a guitar-slinging alien girl named Haruhara Haruko, her sentient yellow Vespa, and a slew of robots Naota must fight. Luckily, he has the aid of Canti, a TV-headed humanoid bot that sprouts from Naota's own noggin. All this madness is brought to you in glossy, vivid animation with a bangin' soundtrack.
Twelve-year-old Naota claims his life in the small Japanese town of Mabase is ordinary. He misses his older brother, now in America playing professional baseball. Mamimi, his brother's ex and a high school slacker, is toying with Naota's emotions. Dad is an at-home baker and wannabe gossip journalist, who doesn't understand anything. All pretty ordinary. Even the newly-built factory called Medical Mechanica, towering over the town in the shape of a giant iron and spewing smoke, isn't all that strange. Enter Haruhara Haruko.
Pink-haired, sexy and completely insane, Haruko roars in on her yellow Vespa, swinging an electric guitar and promptly runs over Naota. Mamimi leaps to his side, only to be shooed away by Haruko as she whacks the stunned boy on the forehead with her Rickenbacker. After a bit of CPR, Naota not only revives but reluctantly gains Haruko as a live-in maid. That, and the ability to grow robots from his head. Now Naota must combine with his sprouted robot Canti to fight other emerging bots. But, the greatest menace in Mabase town may be Medical Mechanica …or Haruko herself. Prepare for your own head explosion as FLCL takes you on one crazy, hilarious and entertaining trip.
Highlights
Be sure to watch the series in order. The events are weird enough without mixing up the plot sequence. This OVA is especially short, having only six episodes –all of them fantastic in their own way. Beware of SPOILERS in the following episode summary:
E1 Fooly Cooly. We meet Naota, Mamimi and the small town of Mabase. Haruko rides in on her Vespa, guitar at the ready, and attacks Naota in a visually stunning scene. Robot Canti and a giant robot hand burst from Naota's head and have an epic fight.
E2 Fire Starter. Mamimi may have a pyromaniac past. She believes from a videogame that the TV-headed Canti is a vengeful god, punishing his enemies by fire. Amidst her chanting to Canti, a bulky enemy robot emerges from Naota's head. Canti eats Naota, boosting his power and defeats the enemy robot. Afterwards, Naota is excreted from Canti in an amusing manner.
E3 Marquis de Carabas. Naota grows cat ears that are transferred to classmate Ninamori through touch. Daughter of a scandalous mayor, Ninamori's issues are interrupted by a bulbous, spider-like robot spawning from her head. Haruko helps defeat the spider with a few good guitar whacks and some very spicy curry. Awesome action scenes as always.
E4 Full Swing. Surreal, spooky episode where Naota may have killed his dad with a bat for perving out with Haruko. Interstellar Immigration agent Amarao is also introduced. Him and those …eyebrows! The ending is spectacular as Naota overcomes his symbolic fear to swing the bat (or guitar) and saves the town from a falling satellite.
E5 Brittle Bullet. Up till now, there have been numerous references in FLCL –everything from Gundam to Initial D. This episode, however, must set a record. Among the more amusing moments is a John Woo film springing to life with pigeons and bullets, and a sequence animated completely in the style of South Park. Also look out for the most massive robot enemy yet and Haruko's cute bunny outfit!
E6 FLCLimax. BIG SPOILER WARNING! Mamimi has unknowingly been feeding the terminal core of a robot monster. Combined with the giant hand structure that Episode 5's enemy robot transformed into after defeat, it will unite with the Medical Mechanica iron and flatten the earth. Haruko could care less, as the event will also release Atomsk, the space pirate king. The devious alien Haruko wants Atomsk's power for herself and has just been using Naota as a transport. Naota must painfully come of age when the power of Atomsk floods through him and he confronts his feelings for Haruko.
Special Features
Kudos to Funimation for the extras on this FLCL DVD release. Each episode has Japanese subtitled director commentaries that greatly help explain the many references, concepts and complexity of the OVA. Music videos were created by setting the FLCL soundtrack, performed by Japanese rock band The Pillows, to series clips and subtitling the songs in English. Sadly, phonetic Japanese lyrics for karaoke were not included in the videos. However, a live action music video of The Pillows singing "Ride on Shooting Star" is featured. English dub outtakes, a textless closing and trailers complete the extras.
Audio
First off, FLCL has arguably one of the best and most memorable anime soundtracks. All music is by The Pillows, a Japanese indie pop/rock band with a sound similar to (and nearly a decade before) The White Stripes. Closing song "Ride on Shooting Star" is particularly lively in beat and tone, with fun non sequitur lyrics.
Both English and Japanese dialogue tracks are in stereo. Japanese audio is advised, as the English dub is awkward. English version Mamimi sounds forced, Naota dull and Haruko's overly high voice detracts from the character.
Video
FLCL is studio Gainax and Production I.G.'s merged anime masterpiece. Completed in 1999, the animation cinematography, especially foreshortening perspectives during action sequences, was far ahead of its time. Utilizing and blending CG ingeniously, characters spin in Matrix fashion, creating scenes both hilarious and mesmerizing. Despite Haruko's pink hair and tendency to flip vehicles like toys, much of the human character designs and background veer toward realistic. This cleverly opposes and enhances the physics-defying action. As good as the music, characters and story are for FLCL, the animation visuals are for me the standout quality.
Overall
FLCL (Fooly Cooly), The Complete Series is a resounding must-have anime for any viewer, any generation. Given its innovative action scene direction and choreography, appealing characters, humorous and wild plot, sleek animation and catchy soundtrack, this OVA will likely hook most audiences. Now head over to Amazon and treat yourself to the anime delight that will have you chanting, furi kuri furi kuri and itching to buy a yellow Vespa.
ComicsOnline.com gives FLCL (Fooly Cooly), The Complete Series 5 out of 5 …eyebrows!
Get your copy of FLCL (Fooly Cooly), The Complete Series on DVD or Blu-ray on Amazon now!
Sprout your robot at ComicsOnline.com for more anime reviews and everything geek pop culture!