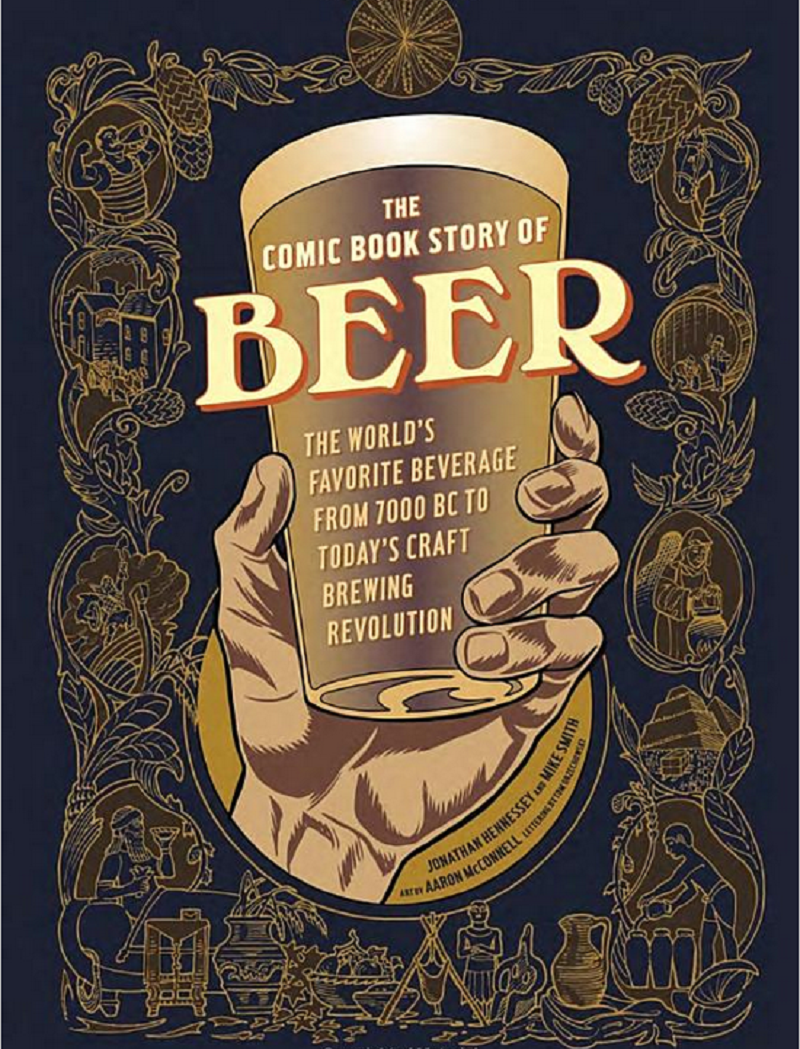 By Emil Favila, Reporter
Are you a beer aficionado?  Have you ever wondered about beer's origins?  If you answered yes to either of those questions, then The Comic Book Story Of Beer: The World's Favorite Beverage From 7000 BC To Today's Craft Brewing Revolution is the book for you!  From the people who brought us the comic book adaptations of The U.S. Constitution and The Gettysburg Address, Jonathan Hennessey, Mike Smith, and artist Aaron McConnell give us a history lesson as enjoyable as your favorite brew.
Comic Book Story Of Beer begins with an unnamed character receiving a phone call from his buddy about their friends wife coming to town who is a beer critic.  Though these characters aren't central to the story, they are provided as a transition to introducing the history of beer.  Readers can appreciate this storybook intro instead of being bombarded with boring text right off the bat.  Hennessey, Smith and McConnell have a gift for making information fun to learn in an easy and eye appealing format.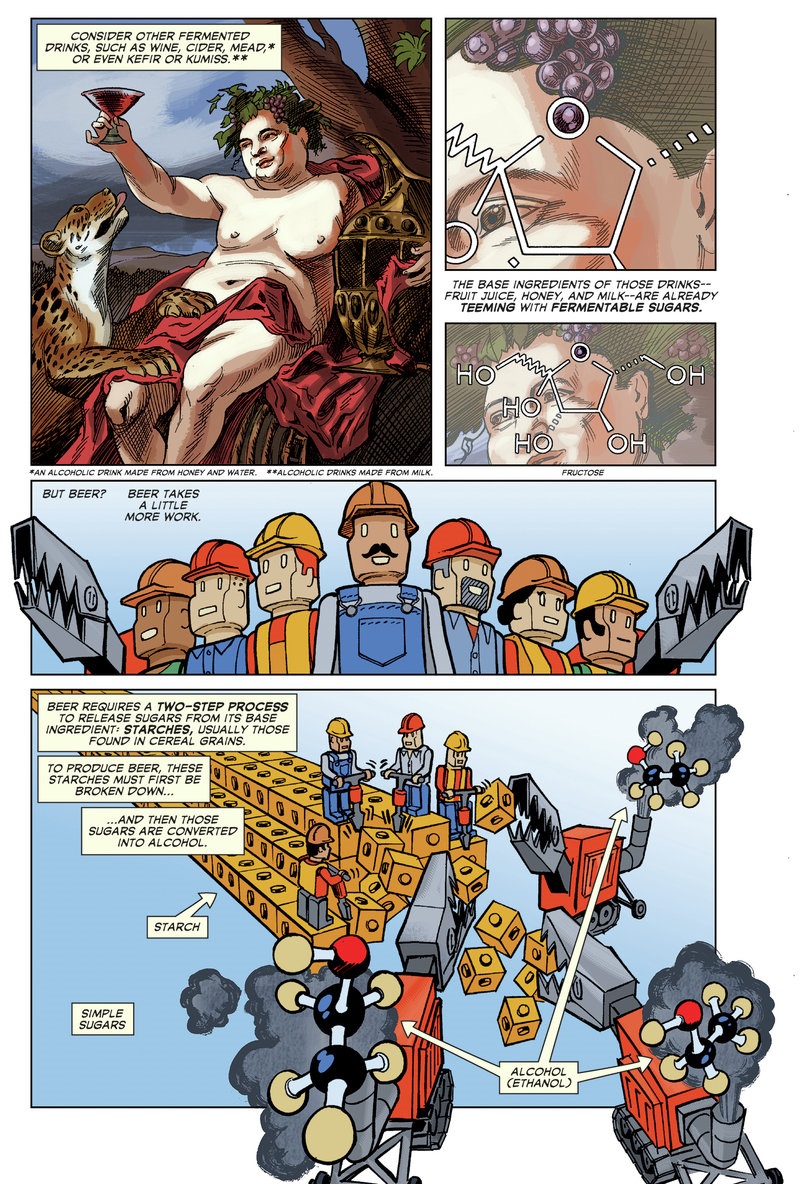 Dating all the way back into the ancient world to today,  Hennessey and Smith are passionate about their favorite kind of alcohol.  With great storytelling, art, and beautiful lettering by legend Tom Orzechowski, it's very easy to get into The Comic Book Story Of Beer.  Every kind of beer from lagers, dark beers, IPA's, to light beers are covered in this fun history lesson.  To them every beer has it's own unique characteristic as it should.  There is no bad beer in their book.
Beer is wonderful and has united people since 7000 B.C.  Hennessey and Smith have definitely done their homework with regards to the historical impact Beer has made on the world.  Each chapter describes the origin of each beer and how they came to be.  There's also a breakdown page describing each kind of ale and their alcohol contents.  I especially like how they discuss the kinds of food that go well with each drink.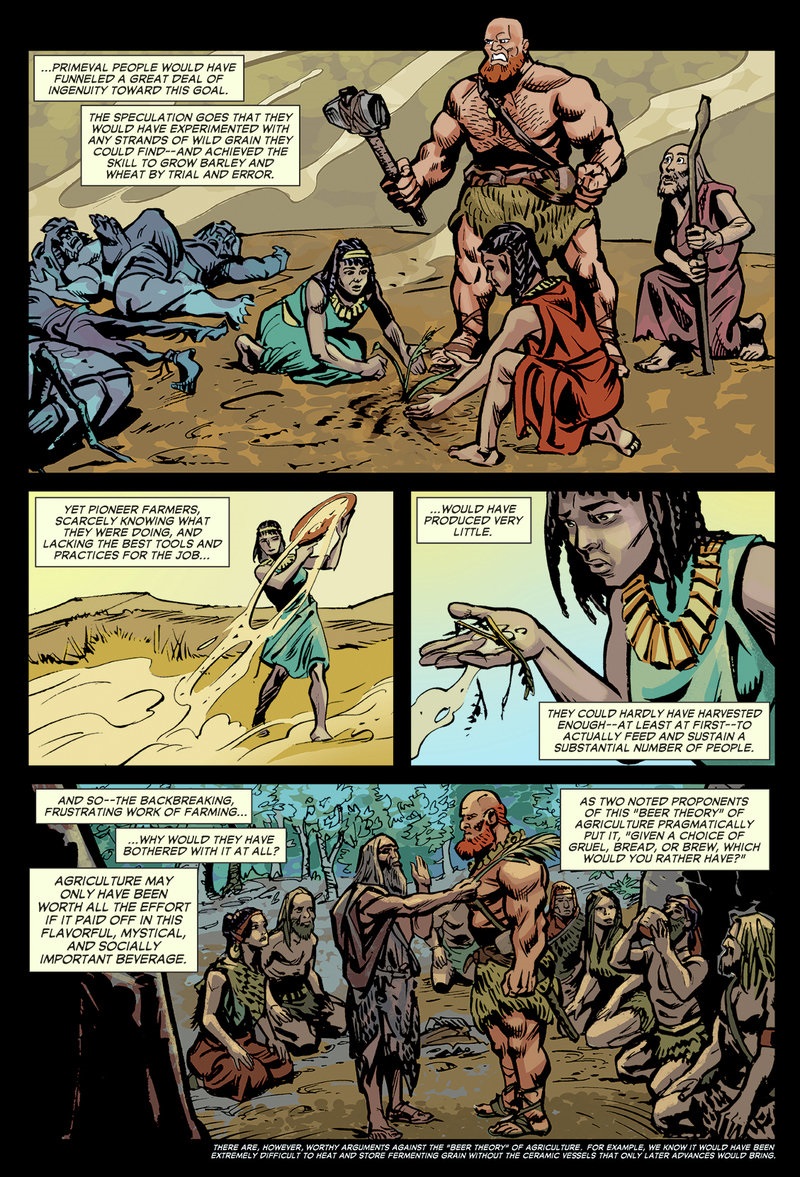 Whether you are a fan of beer or just great storytelling.  There's no denying that The Comic Book Story Of Beer is a must have for any true beer fanatic.  The book is so informative you'll find yourself flipping back just to reference your favorite kind of beer and it's history.   So make sure to preorder your copy of The Comic Book Story Of Beer: The World's Favorite Beverage From 7000 BC To Today's Craft Brewing Revolution off Amazon and grab yourself a drink or two on September 22nd.