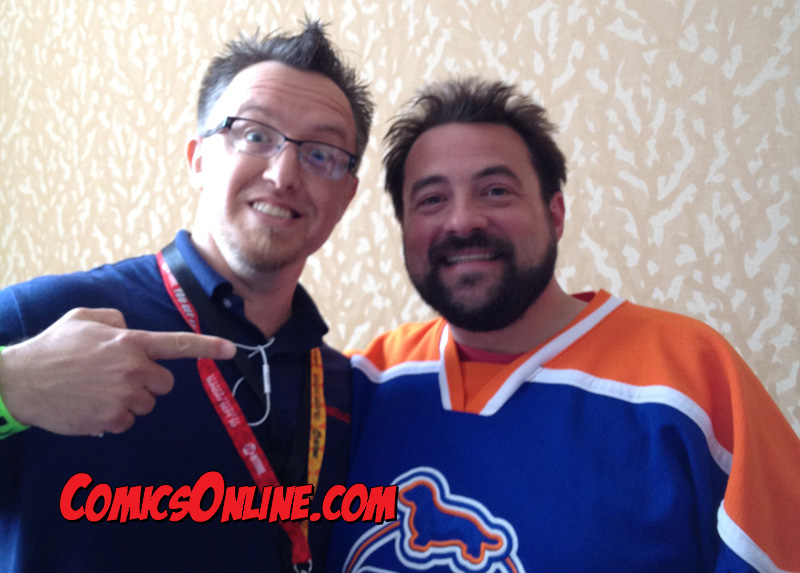 SPOILER ALERT!  You're listening to the ComicsOnline Podcast. Season Twelve. Episode Sixteen. Kevin Smith Interview. Recorded at Comic-Con 2012.
Hello again and welcome to the ComicsOnline Podcast, Season Twelve Episode Sixteen.
…I'm your host Kevin Gaussoin, but instead of our usual group of podcasters, we've got Yet another interview podcast. This episode, I had the honor and privilege of being invited to an intimate little round-table, but unlike most round-table interviews we take part in at Comic-Con where normally five or six journalists around the table each get a question or two over the course of ten or fifteen minutes, this one held journalists from maybe a dozen outlets, and due to the loquacious nature of our subject, I was lucky to get to ask the last of the scant five questions posed during that hour. Ladies and gentlemen and geeks of all varieties, this bitch gave us Jersey Girl and Cop Out, but we tend to let those slide, cause this motherfucking genius also gave us both Clerks, Mallrats, Chasing Amy, Dogma, and last year's shocking thrill ride: Red State. This chatty fuck has given us probably well over a thousand hours of free podcasts to download and enjoy over the last five years or so, and not only has he spread out into comic books, but now he's all up in the rusty wagon wheel of YouTube channels and iPhone games. And now the latest from the man who may be too fat to fly only because his is the only mouth large enough to accept a load from Liam Neeson's cock…
From Commie-Khan 2012, ComicsOnline is proud to present:
A Morning with Kevin Smith.
Get your tubby little fingers to navigate your iPhone or your iPad over to the iTunes store and download -Both- Jay and Silent Bob games: "Let Us Dance!" and "Too Fat to Fly!" available now and priced between "a pack of Nails" and "free".
Click the PLAY button below to listen to this episode of the  ComicsOnline Podcast: Kevin Smith Interview.
---
If you have comments, questions or suggestions for the ComicsOnline Podcasters, we invite you to post 
on our Facebook page, tweet us on Twitter, or email us at [email protected]
All original material in this podcast Copyright ComicsOnline.
Keep subscribing to the ComicsOnline Podcast for more celebrity interviews, more television coverage, 
and everything geek pop culture!
---
---
That Kevin Smith? The guy who did "Clerks" a million years ago? Didn't they bounce his fat ass off a plane once? What could you possibly learn from the director of "Cop Out"? How about this: he changed filmmaking forever when he was twenty-three, and since then, he's done whatever the hell he wants. He makes movies, writes comics, owns a store, and now he's built a podcasting empire with his friends and family, including a wife who's way out of his league. So here's some tough shit: Kevin Smith has cracked the code.  Or, he's just cracked.
Tough Sh*t is the dirty business that Kevin has been digesting for 41 years and now, he's ready to put it in your hands. Smear this shit all over yourself, because this is your blueprint (or brownprint) for success. Kev takes you through some big moments in his life to help you live your days in as Gretzky a fashion as you can: going where the puck is gonna be. Read all about how a zero like Smith managed to make ten movies with no discernible talent, and how when he had everything he thought he'd ever want, he decided to blow up his own career. Along the way, Kev shares stories about folks who inspired him (like George Carlin), folks who befuddled him (like Bruce Willis), and folks who let him jerk off onto their legs (like his beloved wife, Jen).
So make this your daily reader. Hell, read it on the toilet if you want. Just make sure you grab the bowl and push, because you're about to take one Tough Sh*t.
Podcast: Play in new window | Download