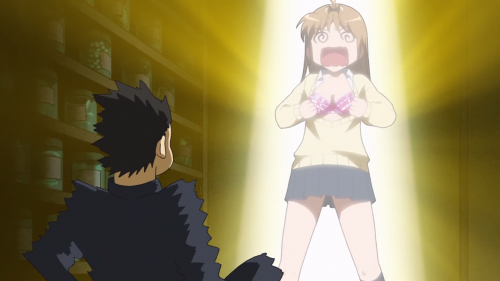 Boobies FTW!
by Laurini, Reviewer
Yamada may be the school beauty, but she wants to start off the new semester with a real bang –by collecting one hundred sex friends!  Easier said than done, because every boy must be a virgin and Yamada herself has never even been kissed!  When she sets her eyes on the clueless geek Kosuda from the photography club, it creates a hilarious twist on anime love comedies in B Gata H Kei: Yamada's First Time, The Complete Series.
Unlike typical young anime girl characters, Yamada's personality has an extreme dichotomy of perverted lust and virgin naivety.  These traits drive her amusing antics, as she struggles to fulfill the fantasies from her collection of porno mags and sex guides.  But, at every step her lack of experience sends her blushed and running from any male physical reaction.  She reasons that shy cherry boys will lack the aggression she fears and will not question the look of her …lower region, which Yamada finds embarrassing.  Though definitely not a series for younger viewers, B Gata H Kei is a riot, easy to marathon watch and packs a surprising amount of entertaining story in its short 12 episodes.
Highlights
This series has a great pace throughout its episodes, following Yamada over two years in her de-virginizing quest.  Many of the side characters are likewise endearing in their individual ways, including Yamada's rival Kanejo.  A rich transfer student back from America, Kanejo has a rather unconventional relationship with her equally hot older brother.  He in turn, has eyes for Yamada, though she rejects him.  This love triangle is one among several that keep B Gata H Kei interesting and the laughs coming.  The following are a few especially standout episodes, but no part of the series was slow.
·         E1.  Boy meets girl.  We meet Yamada, her friends and target Kosuda in a whirlwind of her crazy sex goals and blatant misunderstandings about intimacy.  Her ideas of what experienced guys will think of her naked are hysterical.  Basically sums up the feel of the series.
·         E2. Oh, yeah!  Let's go to a pool!   An eye-candy filled swimsuit episode with awesome sight gags!  We also meet the busty childhood friend of Kosuda, the sweet and shy Miyano –it's hard not to root for her as the series progresses!
·         E10.  The Kanejo Family!  SPOILER ALERT We get a serious case of TMI about beautiful rival Kanejo and her older brother obsession.  This taboo theme is explored in a very funny manner by revealing a special secret room in the Kanejo mansion.
·         E11.  Year 2 Class H's Christmas Eve!  Take me to bed!  SPOILER ALERT One naughty, sexy episode, where Yamada and Kosuda finally find a private place (they think), make some intimate progress and Kanejo finds her own sudden voyeurism!
·         E12.  The world revolves for us!  Goodbye… B Gata H Kei!  The hot and dysfunctional conclusion SPOILER ALERT where Yamada and Kosuda finally verbalize that yes, they both want to go all the way, and enter their first love hotel!  Will they pop their cherries at last?
Special Features
The DVD 2-disc set has a nice cluster of extras, including some funny outtakes from the English dub.  A collectible art box comes with the Limited Edition set.  Other extras are textless opening and closing songs and Funimation trailers.
Audio
Choices of English 5.1 Surround and subtitled Japanese Stereo.  As with most English dubs, the voices sound much too old for the characters.  High schoolers Yamada and Kosuda in English could easily be in their late twenties, perhaps early thirties and other female characters come out grating or silly at best.  The original Japanese dub is a much better fit and the subtitles are fairly adequate in catching language differences and cultural references that are tricky to translate (The "H" of B Gata H Kei for example is translated as "sex" –close enough in meaning to the Japanese slang).  As far as series music, both opening and closing songs and background tracks are up-beat, and simply standard quality compared to most anime series.
Video
The animation style for B Gata H Kei is fairly realistic, simple and appealing.  Other than the fantasy purple hair of Kanejo and her brother, character design and dress are a true-to-life, flattering representation of Japanese students.  Backgrounds are detailed, particularly during a school trip episode to the lush temples of Kyoto.  Animation quality in general for the series is smooth, perhaps a tad above average for modern anime OVAs (Original Video Animations with shorter running lengths than TV series), and becomes extra shiny in appropriate scenes where characters are having sexy moments.
Overall
For those who love drama and sexy comedies, B Gata H Kei:  Yamada's First Time is a little-advertised gem not to be missed!  While there are hearty helpings of fan service and teasers, for a sex-comedy there is actually little nudity and/or sexual acts in the anime. However, the quick humor and pace, combined with characters whose traits put a twist on typical anime love dramas, should make the series a satisfying standout for viewers.  Beneath the eye candy, plenty of story and silliness will keep them watching this refreshing series episode after episode.
ComicsOnline gives B Gata H Kei: Yamada's First Time, The Complete Series 5 out of 5 cherries!
Preorder your copy of B Gata H Kei: Yamada's First Time Complete Series (Limited Edition Blu-ray/DVD Combo)
at Amazon now!  Release date scheduled for Jan 31st, 2012.
Find your cherry boy at ComicsOnline.com for more anime reviews and everything geek pop culture!